Looking to spend this summer someplace different and truly nice? Karachi is the place to be! Chock full of places to be, Karachi is the hub of entertainment in Pakistan. People from all over the world come to experience the unique vibe Karachi has to offer, and we're proud of the city it has become.
The metropolitan city is full of amusement parks, serene beaches, some of the best eateries in the country, and of course, lavish and luxurious farmhouses and venues for all kinds of events.
Whether you're looking to spend a night with friends or hold a family event, or even a wedding, farmhouses are a great option. And Riverdale is one of the best options out there.
A project of Vista Venues, Riverdale is a luxurious farmhouse located in Gharo, near Karachi. One of the reasons that Riverdale is the best farmhouse out there, is due to its numerous facilities. The aesthetic beauty of the location, coupled with unparalleled service from Vista Venues, makes Riverdale the best farmhouse in Karachi.
State of the Art - Farmhouse facilities:
Riverdale brings a plethora of features to cater to different kinds of events. These facilities include: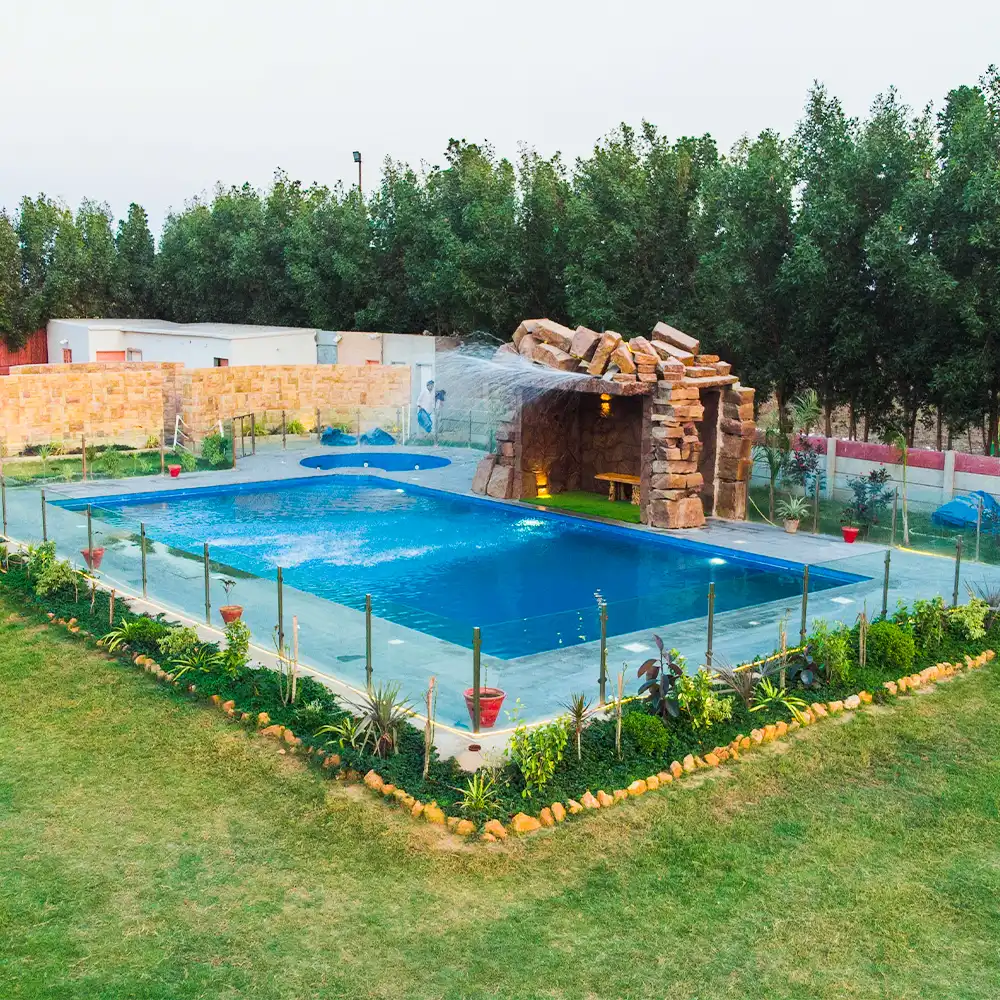 A luxurious swimming pool:
The luxury farmhouse has a swimming pool, which is a spacious 40 x 20 feet pool, fitted with an international filtration system and kept clean with regular antibacterial treatments. The pool is surrounded by a tempered glass enclosure to ensure that children don't go near the pool, and insects don't pollute the clean water. A separate shower area is provided as well, along with changing rooms.
The modern farmhouse has a jacuzzi is temperature-controlled, with individual water jets, capable of facilitating 6 persons at a time. With regulated water and regular antibacterial chemical treatments, the pool is made to the standards of the best hotels in the world.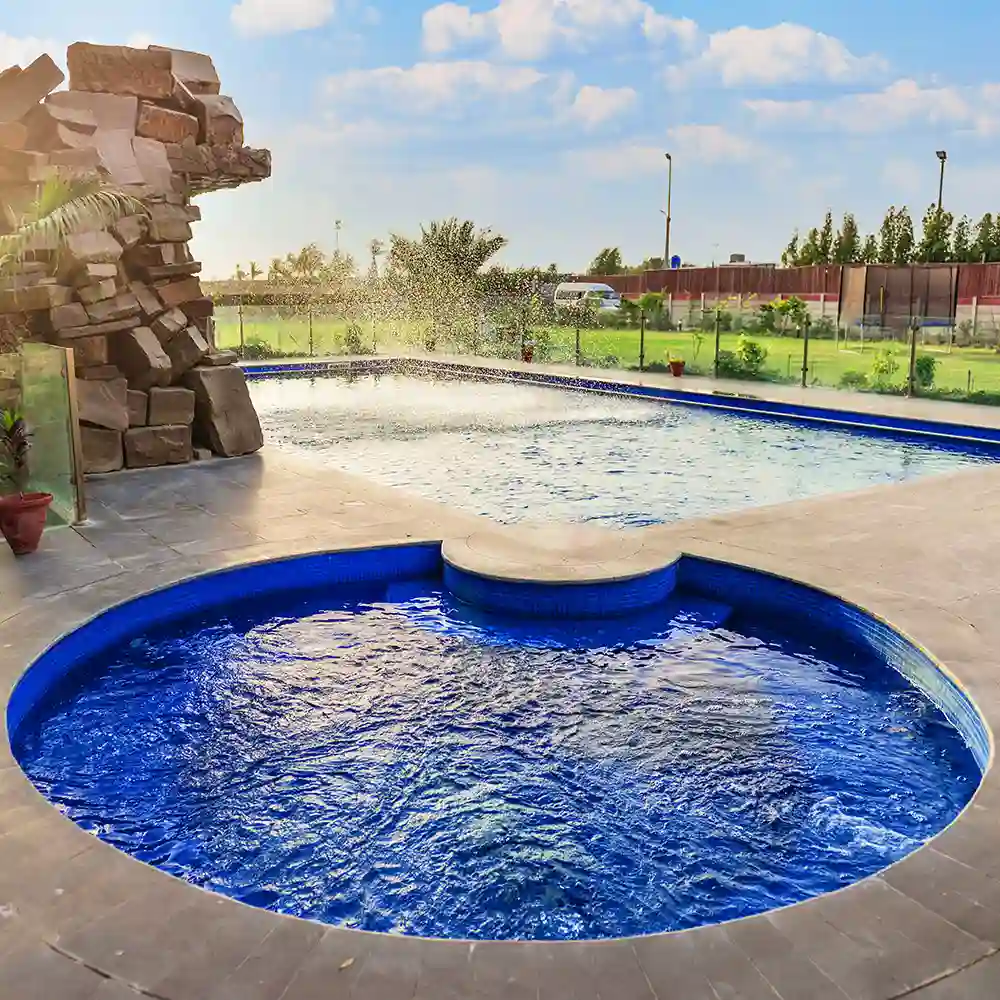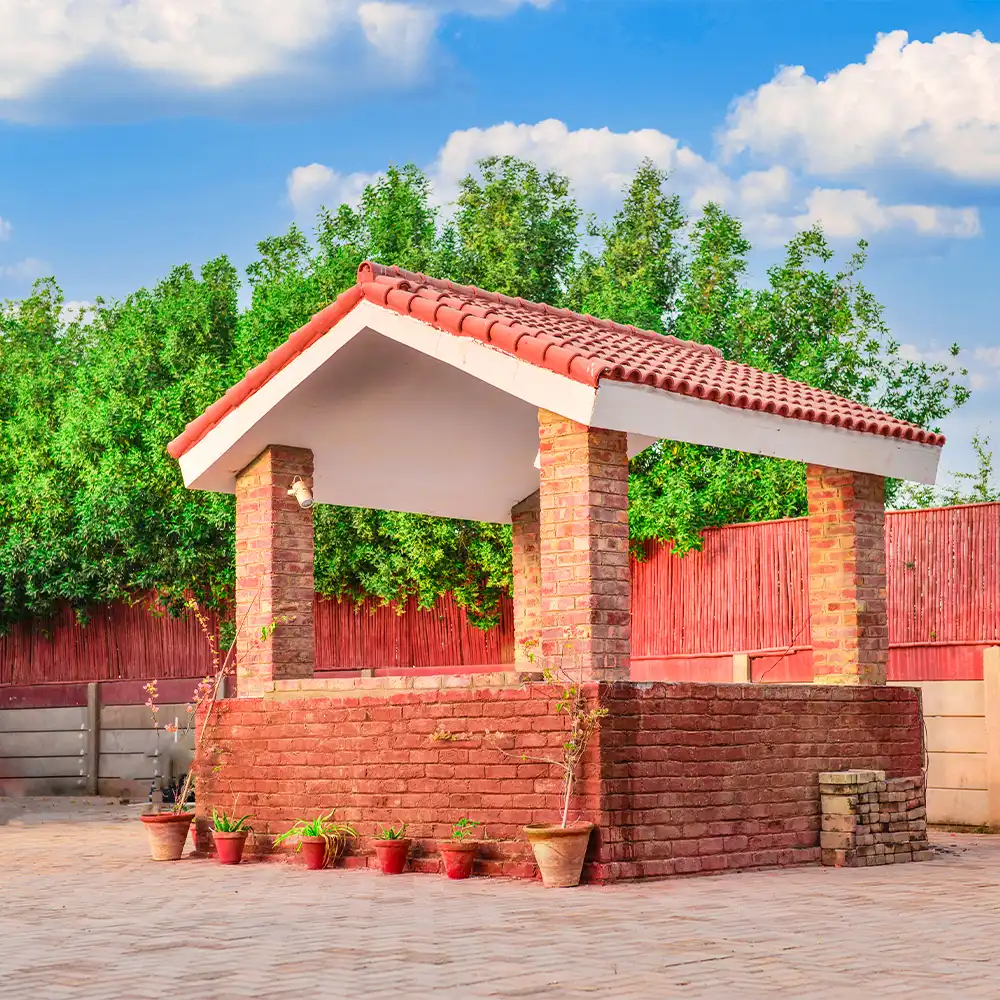 Riverdale farmhouse has a separate grill enclosure, and is able to handle different kinds of cooking. Built within a separate enclosure, no smoke will enter the other areas of the farmhouse, ensuring a clean cooking experience.
Riverdale's lawn is spread over 20,000 square feet, with well-maintained grass. Cleaned regularly and sprayed with anti-mosquito sprays, the lawn is ample for any kind of event.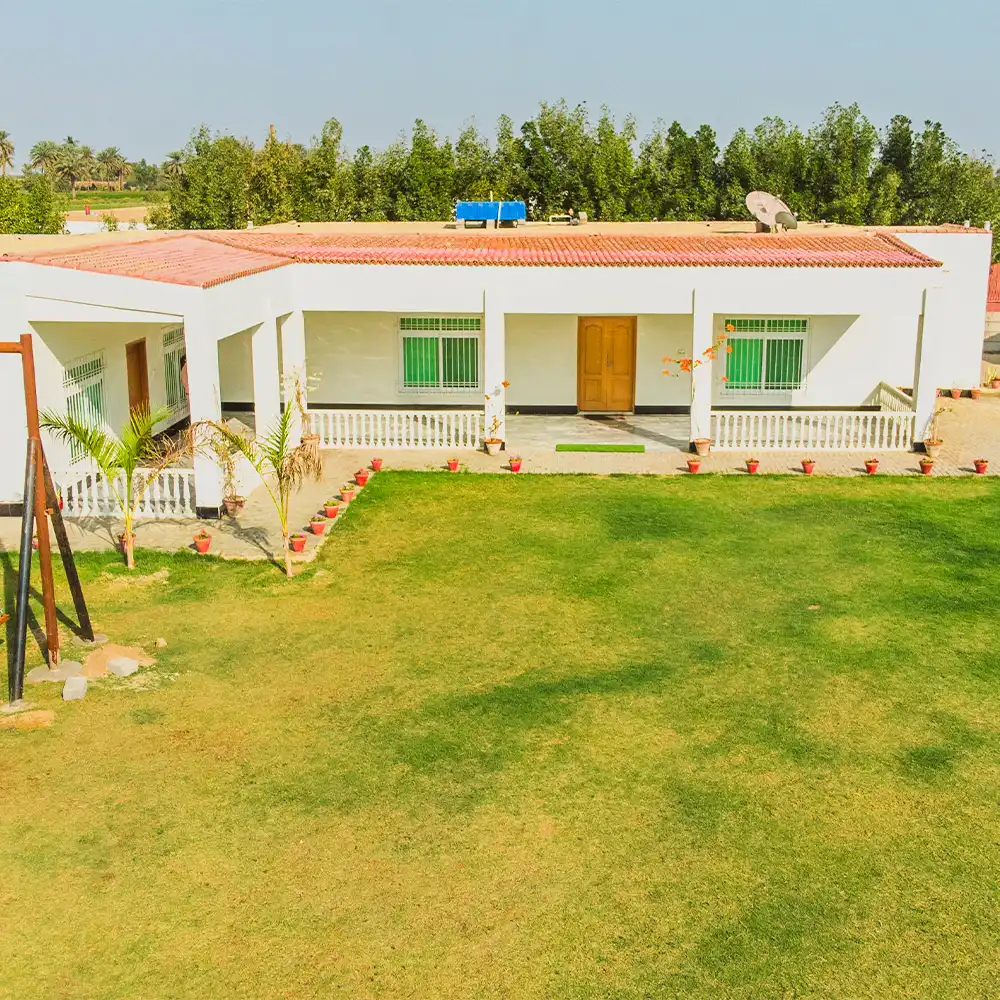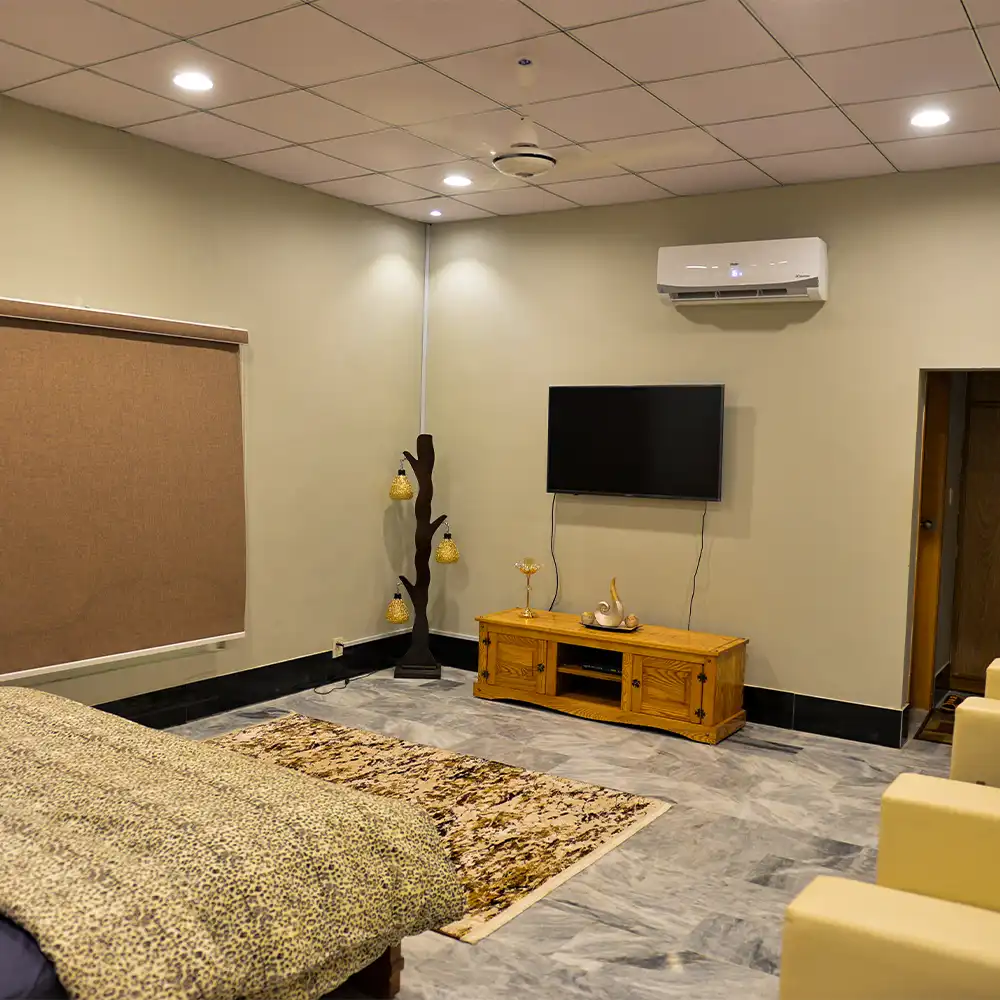 The modern farmhouse has and indoor area which is spread over 3,000 square feet. 3 bedrooms with separate bathrooms, 1 lounge, and 1 kitchen are ample for all needs. All rooms are fully air-conditioned, with modern furnishings and safes provided for valuables. 4k 55" LED screens are installed in every room as well for entertainment.
The modern farmhouse has a beautiful gazebo, with an inbuilt fireplace to keep you warm during cold nights. The gazebo adds an aesthetic to the overall vibe of the place and is perfect for shoots.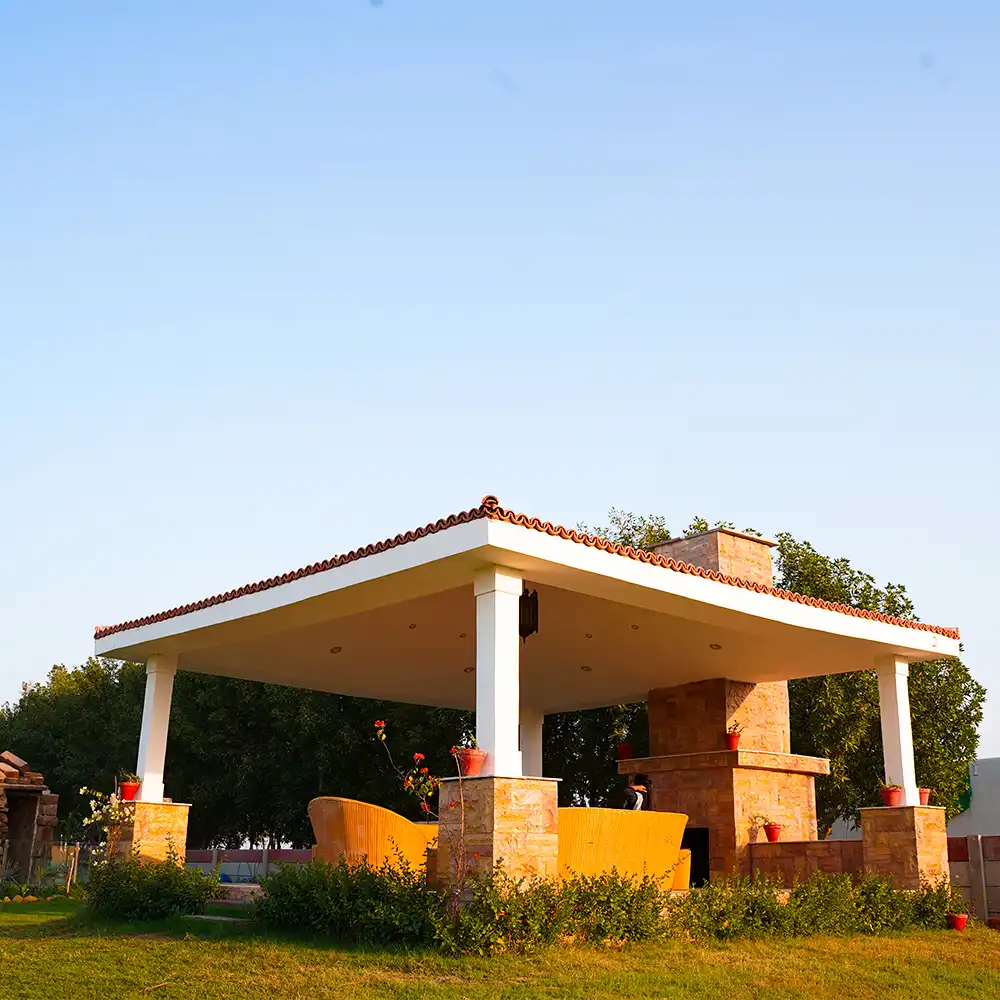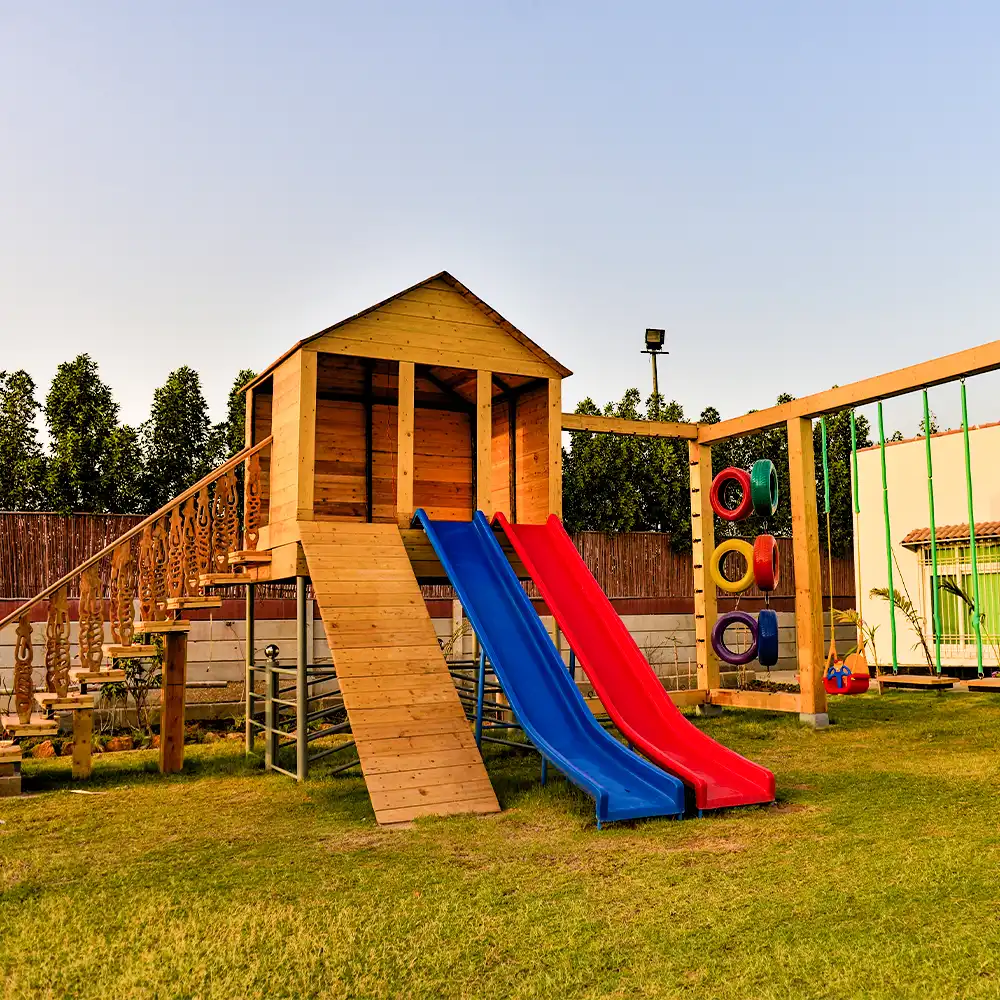 Riverdale has a park area built for kids, complete with a jungle gym, slides, swings, and a rock wall for climbing.
Aside from this, the luxury farmhouse has an uninterrupted power supply system, along with several generators on stand-by. Riverdale also has a private security force to provide their clients with peace of mind. Along with this, Riverdale farmhouse provides its tenants with ample car parking space. With space for up to 250 cars, parking is not an issue.
With numerous facilities, this luxury farmhouse can handle any and all sorts of events. From birthdays to corporate getaways, weddings to fashion shoots, it's a prime location for the client.
With a new and improved booking portal, users will have no issue in getting a quick quote for their desired date and event. The user interface has been optimized for a seamless and easy experience! Just choose the available dates, the type of event you want, and send Vista Venues a request for a personalized quotation.
Farmhouse for rent, in any event.
Riverdale is one of the best modern farmhouses in Karachi, and its facilities can be used for different events. These events include:
Huge spaces, premium service, and professional security standards make this lavish farmhouse a prime location for a corporate getaway. The pool and hot-water Jacuzzi are something that's only found in 4-star hotels, and your team will surely enjoy relaxing with these premium facilities.
Along with this, the lavish indoors area coupled with uninterrupted power supply are just some of the numerous facilities this farmhouse for rent has for the team to enjoy. The indoor lounge is fully furnished and air-conditioned if you wish to hold a meeting, and the bedrooms are catered along to hotel standards.
For commercial and production shoots, this modern farmhouse and the surrounding grasslands and pond are the best for that natural look in your photoshoot. The surrounding fields in Riverdale are also available for use in production shots, and any special requests are readily fulfilled by the helpful staff at Vista Venues.
The staff at Vista Venues is also very helpful for any different requests you might have. Private caterers and decorators can also be arranged by Vista Venues as per the client's request. Clients are also allowed to bring any third-party caterers if they wish to do so.